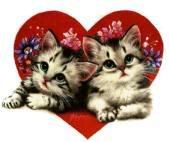 This memorial website was created in the memory of our loved one, Kristina "Krissy" Basile who was born in New York on July 11, 1978 and passed away on March 15, 2007 at the young age of 28. We will remember her always and forever.

Kristina was a very special person to a lot of people. She was a daughter, a sister, a granddaughter, a niece, a cousin, a girlfriend, a god-mother, a god-daughter, a best friend and a friend. She was a beautiful person on the inside as well as on the outside.

Kristina is a victim of an unsolved homicide. If it weren't for the person who decided to take her life, Kristina would be here with us today.
I encourage all who knew her to please add pictures and memories to this site and to let others know about it also.



March 15, 2010 - 3 years in Heaven - We all miss you and love you!!!!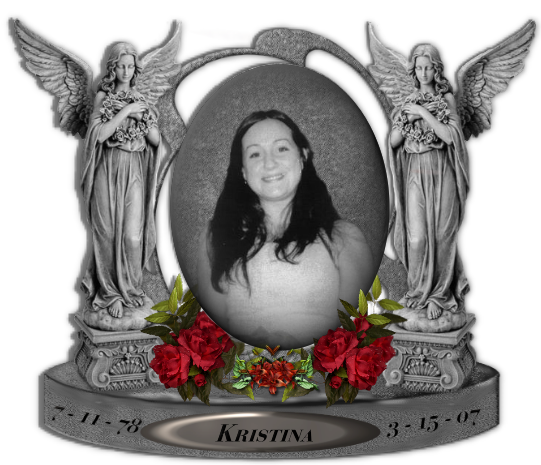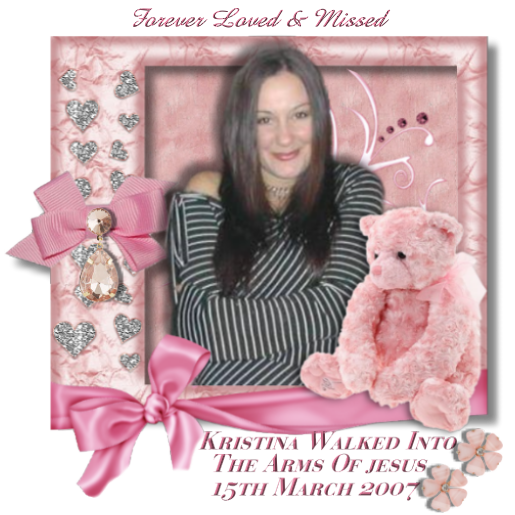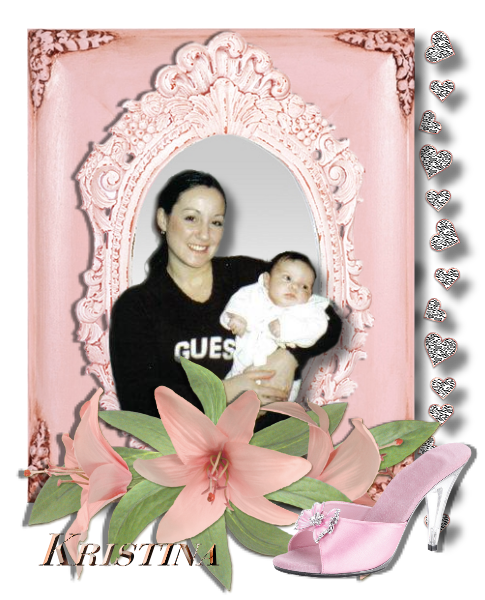 One morning I found you in eternal sleep;
I tried to wake you as I began to weep,
But all my pleas you could not hear;
Oh if I could have only kept you near,
Away from the voices of those who went before,
Who beckoned you to come to that distant shore.

I find it so very hard to believe
That you have gone and I must grieve;
I call out your name -- you answer not,
And I look for you in every familiar spot.
Everything seems so strange and surreal,
I ask everyday is it a dream or real?

Where are the soft brown eyes of affection?
Where is the laughter and talk of childhood reflection?
Where is the loving care when I was sick or sad?
Where is the generous soul for which I was glad?
Where is the forgiving and understanding heart?
Where are the bonds that were there from the start?

I miss all the little ways you showed you cared,
For there were so many good moments we shared;
Looking back on my life's assorted scenes,
I realized you taught me what love truly means;
You were my trusted confidante and best friend,
On whose loving support I could always depend.

I look at your smiling face in all my photos;
Memories flood my mind as I touch the mementos
From the happy times you and I have had,
But now these bring tears and make me sad;
For the time together went by in a wink,
Life was not as long as we'd like to think.

Sometimes memories bring comfort and make me smile,
But there are times when grief takes over for a while;
Friends offer gentle words and prayers to console,
And tell me what has happened to your loving soul;
Can it be true what they say of time healing grief?
Is it enough when they say death has given you relief?

Can we believe what others say of a better place,
Where our beloved ones rest in God's warm embrace?
I should be happy you're free of pain and sorrow,
And rejoice that you'll always have tomorrow.
How can I then be so heartbroken and selfishly cry,
Return to me from that peaceful place where you lie!"

Now I look down at your name on a cold hard stone
That says little of the loving light you have shone;
It tells nothing of the wonderful person you were,
And only serves to remind me of the painful loss I endure;
But I know your kind soul wants no tears or pain,
Instead you'd want warm memories and love to remain.

Although I cry and stand grief-stricken by your grave,
I promise not to forget the loving memories you gave;
But still I miss you so very much my sister dear,
And your caring words I once again long to hear;
My heart's only solace is one day I will see you as before,
Beckoning me to come join you on that white distant shore.



You can shed tears that she is gone, or you can smile because she has lived. You can close your eyes and pray that she'll come back, or you can open your eyes and see all that she's left. Your heart can be empty because you can't see her, or it can be full of the love you shared. You can turn your back on tomorrow and live yesterday, or you can be happy for tomorrow because of yesterday. You can remember her only that she is gone, or you can cherish her memory and let it live on. You can cry and close your mind, be empty and turn your back or you can do what she'd want: smile, open your eyes, love and go on.
July 11, 2009
Happy 3rd Birthday in Heaven
Love & Miss You More Than Ever!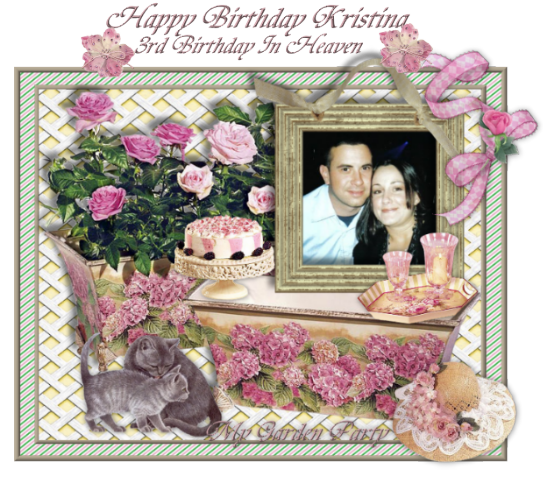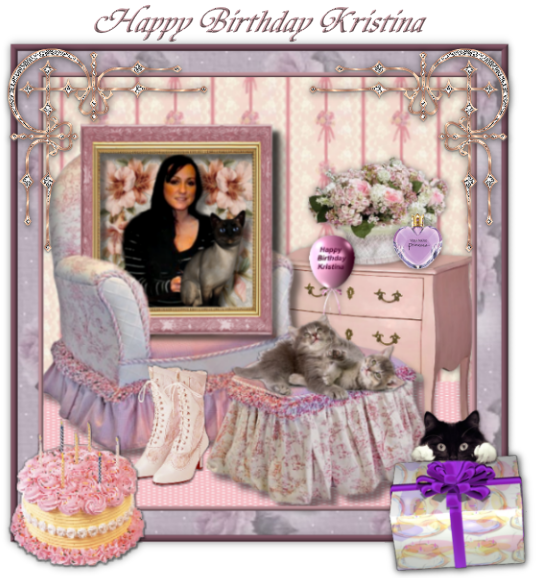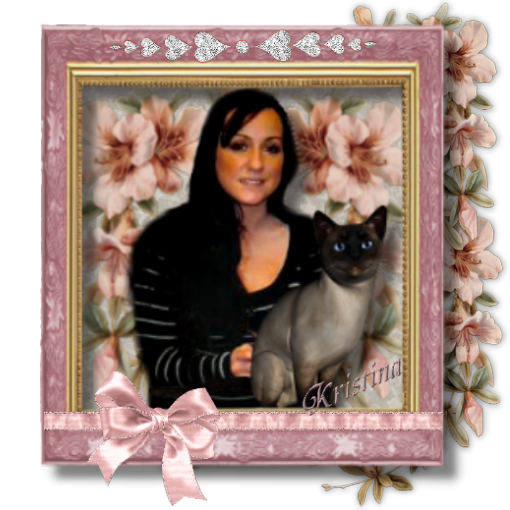 March 15, 2009
2nd year in Heaven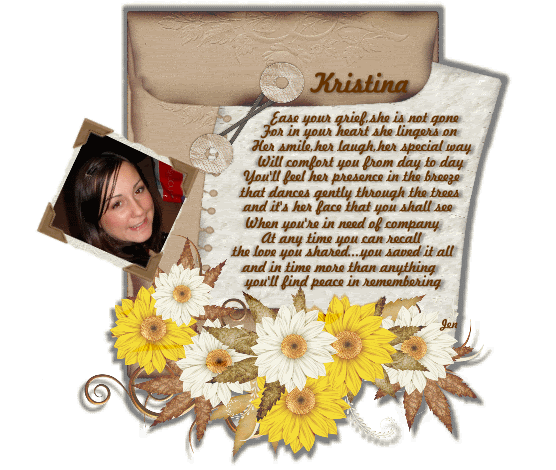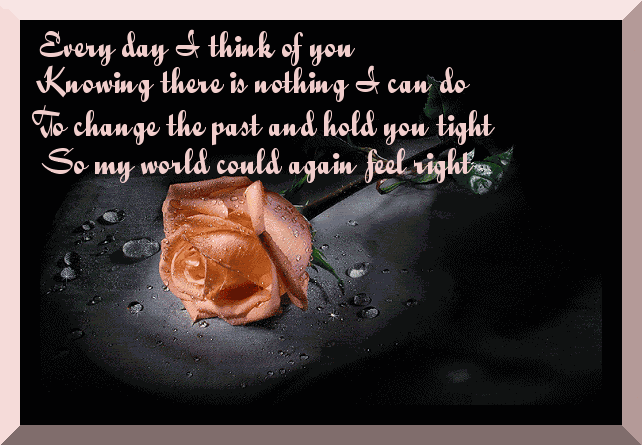 July 11, 2008 - Happy 2nd Birthday in Heaven
Love and miss you more than ever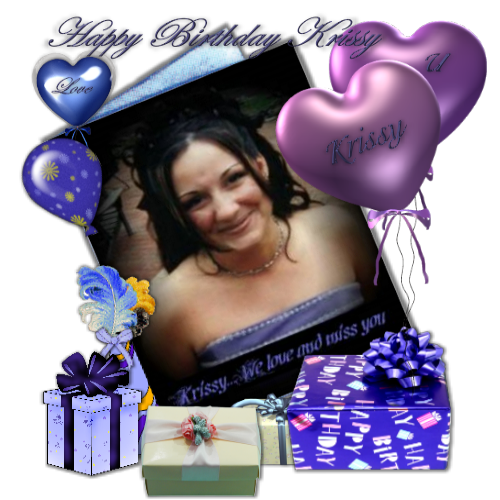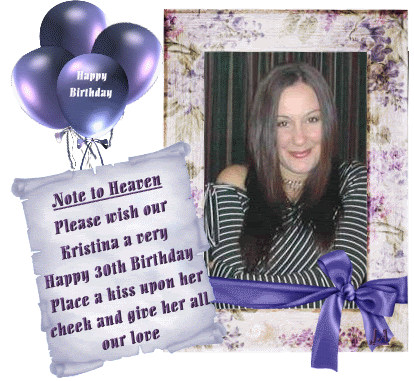 Birthdays In Heaven

Birthdays in heaven are a wonderful site
Where generations of family once again unite.
Nothing on earth can ever compare to the sounds of the angels singing "Happy Birthday My Dear!"

We gather together with our family and friends
And circle the world with love once again.
We know that you miss us and we want you to know that birthdays up here are not much different than below.

For we have cake with candles and one wish we always make that your heart will know love and will never again ache.

So tonight go outside and count the stars in the sky
for as I blow out my candles they will flicker up high.

And as this is happening you'll know deep in your heart that Heaven and Earth aren't really that far apart!
Light a candle, it'll help to remind you
Of your time together on earth,
and as the flame flickers, remember
Her kindness, her goodness, her worth.
So, glow little candle, that briefly,
You'll know that her memory can't die,
As you see her sweet face in the glowing,
Shed a tear, say a prayer, then goodbye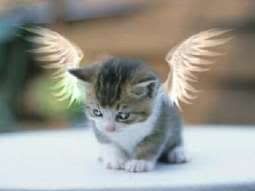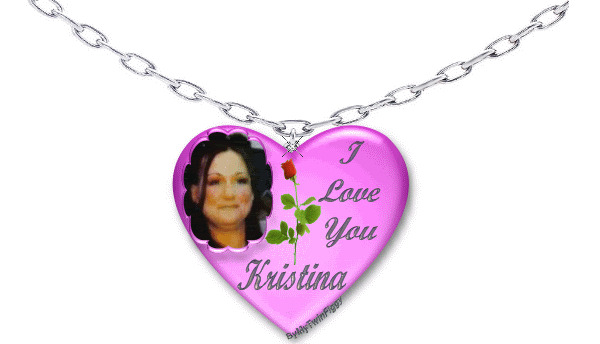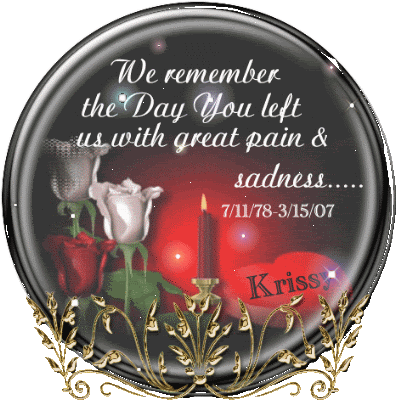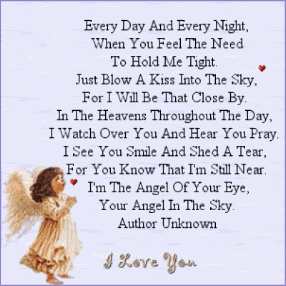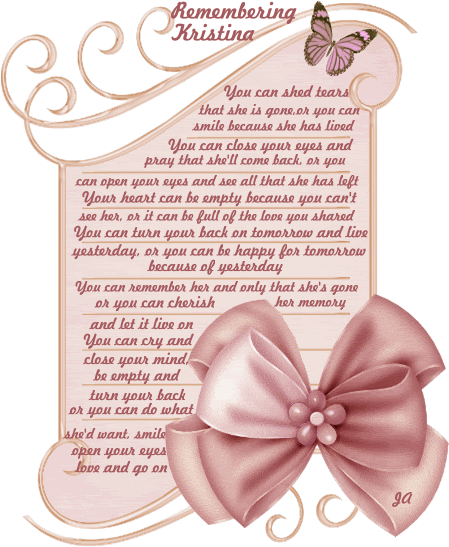 A Face In The Clouds

I looked toward the clouds today
and for a moment saw your face
and wondered just where you have gone
and a hope it's a better place.

Did you show yourself to me today
to tell me you're alright?
Or was it just a daydream
playing tricks upon my sight?

Then I thought of when you left,
you did not say a word.
We never said good-bye, but
in our hearts, your good-bye was heard.

You have changed our lives forever,
your time here not in vain,
and hope you know we always wanted
to keep you safe from pain.

We will always feel the void inside
because you are not here.
But each new thought you send our way
let us know you're always near.

So until our journey nears it's end
and we hear the angels sing,
we'll face each new day as it comes
and live off the love you bring.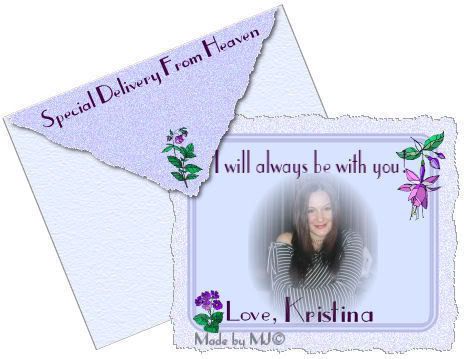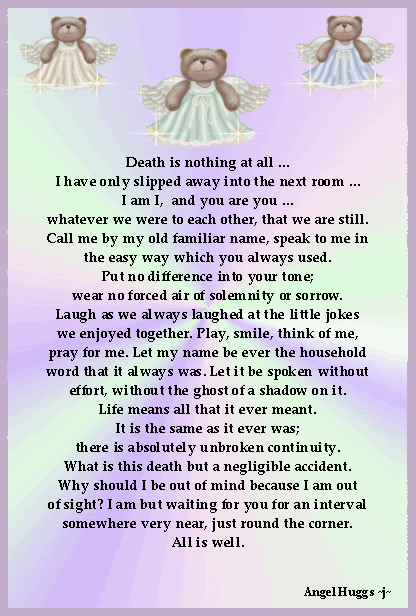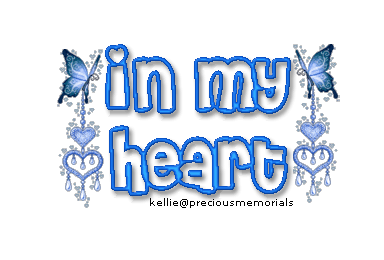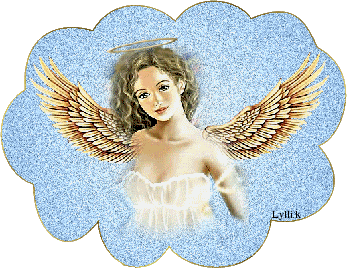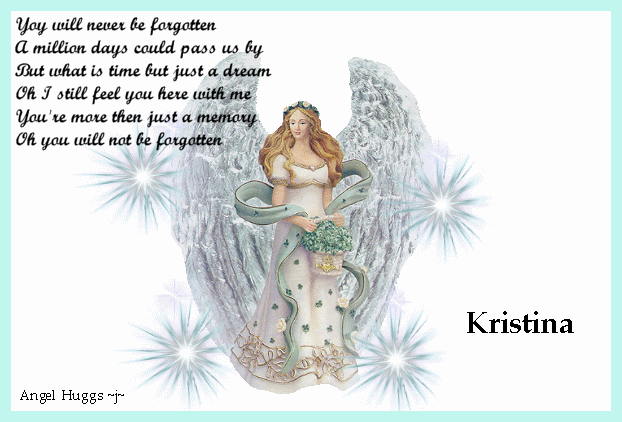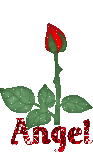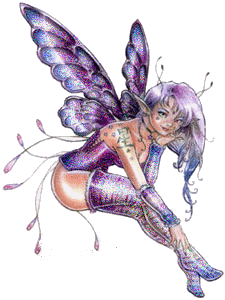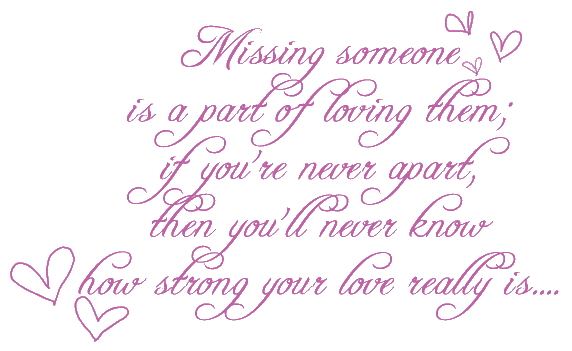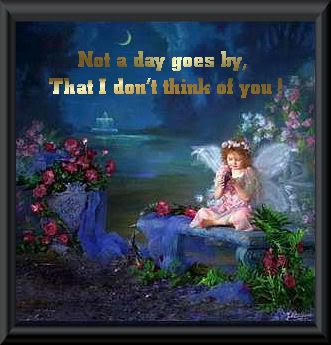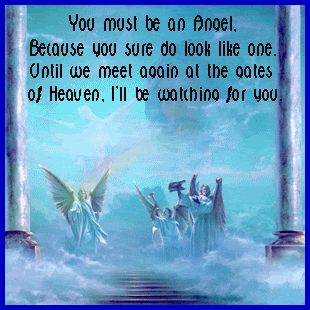 July 11, 2007....Kristina's 1st Birthday in Heaven.....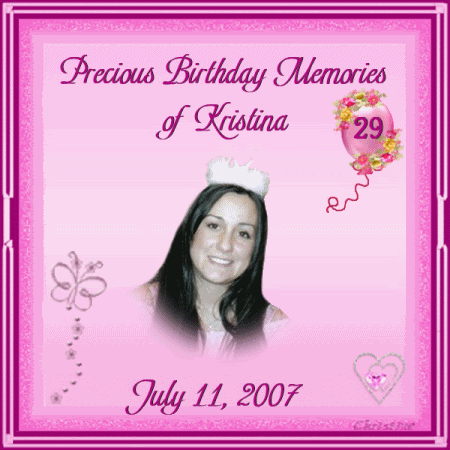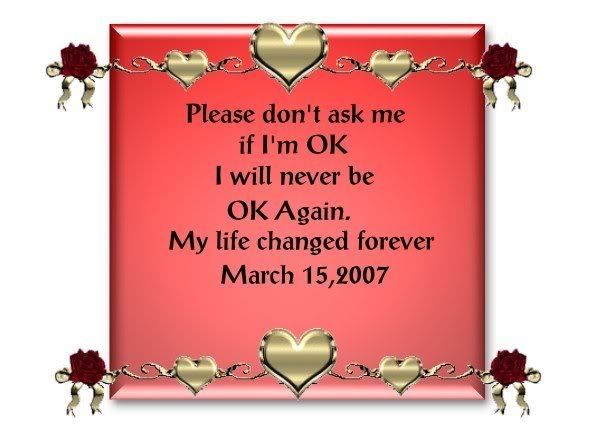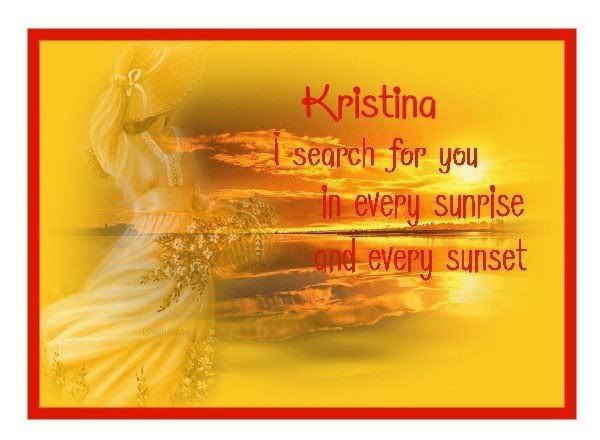 We little knew that morning,
God was going to call your name,
In life we loved you dearly,
in death we do the same.
It broke our hearts to lose you,
you did not go alone,
For part of us went with you,
the day God called you home.
You left us peaceful memories,
your love is still our guide,
And though we cannot see you,
you are always at our side.
Our family chain is broken,
and nothing seems the same,
But as God calls us one by one,
the chain will link again




Forever Changed

Can you see the change in me? It may not be so obvious to you I participate in family activities. I attend family reunions.. I help plan holiday meals.

You tell me you're glad to see that I don't cry anymore. But I do cry! When everyone has gone - when it is safe- the tears fall. I cry in privacy so my family won't worry. I cry until I am exhausted and can finally sleep. You tell me you admire my strength and my positive attitude.

But I am not strong, I feel that I have lost control; and I panic when I think about tomorrow.... next week.... next year. I go about the routine of my job. I complete my assigned tasks. I drink coffee and smile.

You tell me you are glad to see I'm "over" the death of my loved one. But I'm not "over" it. If I get over it, I will be the same as before my loved one died. I will never be the same.

At times I think I am beginning to heal , but the pain of losing someone I loved so much has left a permanent scar on my heart. I visit my neighbors.
You tell me that you're glad to see I'm holding up so well. But I'm not holding up well. Sometimes I want to lock the door and hide from the world. I spend time with my friends, I seem calm and collected. I smile when appropriate. You tell me it's good to see me back to my "old self" But I will never be back to my "old self". Death and grief, have touched my life....

and I am changed forever.

Unknown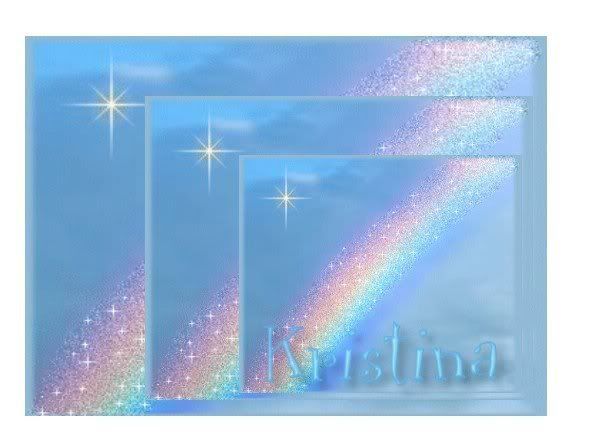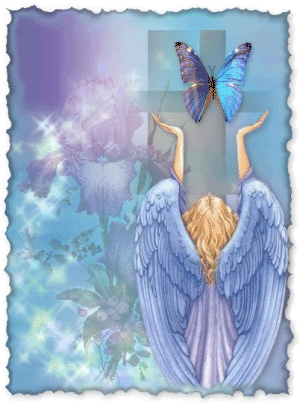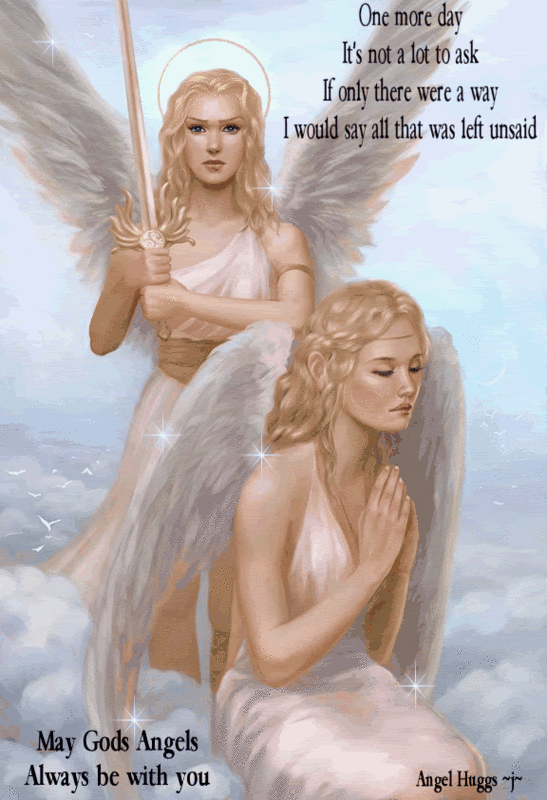 Blessings from Heaven
To Those Left Behind
I'm still here, my loved ones
Please don't mourn for me.
I'm still here, though you don't see.
I'm right by your side each night and day,
And within your heart I long to stay.
My body is gone, but I'm always near,
I'm everything you feel, see or hear.
My spirit is free, but I'll never depart,
As long as you keep me alive in your heart.
I'll never wander out of sight
I'm the brightest star on a summer night.
I'll never be beyond your reach
I'm the warm moist sand when you're at the beach.
I'm the colorful leaves when fall comes around
And the pure white snow that blankets the ground.
I'm the beautiful flowers, of which you're so fond
The clear cool water in a quiet pond.
I'm the first bright blossom you'll see in the spring
The first warm raindrop that April will bring.
I'm the first ray of light when the sun starts to shine
And you see that the face in the moon is mine.
When you start thinking there's no one to love
You can talk to me through the Lord up above.
I'll whisper my answer through the leaves on the trees
And you'll feel my presence in the soft summer breeze.
I'm the hot salty tears that flow when you weep
And the beautiful dreams that come while you sleep.
I'm the smile you see on a baby's face.
Just look for me, my loved ones.
I'm everyplace!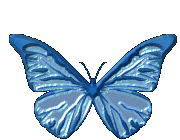 I wish you would not be afraid to speak Kristina's name. She lived and was important,
I need to hear her name, and I need to share memories of her.

If I cry and get emotional when we talk about Kristina, I wish you knew that it isn't because
you hurt me: the fact that she died causes my tears. You have allowed me to cry and I thank you. Crying and emotional outbursts are healing.

I will have emotional highs and lows, ups and downs. I wish you wouldn't think that if I have a good cry my grief is all over.

Being bereaved is not contagious, so I wish you wouldn't stay away from me.

I wish you knew all the "crazy" grief reactions that I am having are in fact very normal. Depression, anger, fear, hopelessness, short- term memory loss, and questioning of values and beliefs are to be expected following a death.

I wish you wouldn't expect my grief to be over in 6 months or even a year. The first few years are going to be exceedingly traumatic for me. As with alcoholics, I will never be "cured" or a "formerly bereaved", but forevermore be recovering from my bereavement.

I wish you wouldn't expect my family's grief to be over in 6 months or even a year. The first year will be full of firsts without Kristina, who was a loving member of our family. They too may cry and have emotional outbursts. There is no right or wrong way to grieve or any specific length of time to grieve the tragic loss of a beloved family member.

I wish you understood the physical reaction to grief. I may gain weight, lose weight, sleep all the time or not at all, develop a host of illnesses and be accident prone, all of which are related to my grief.

Kristina's birthday, the rememberance of her death and the holidays can be terrible times for my family and me. I wish you could tell us that you are thinking of us and Kristina on these days. And if we get quiet and withdrawn, just know that we are thinking about her and don't try to coerce us into being cheerful.

I wish you would understand that I have to hurt before I can heal.

I wish you wouldn't tell me you understand how I feel, because you couldn't possibly understand my pain.

I wish you understood that grief changes people. I am not the same person I was before Kristina died and I will never be that person again. If you keep waiting for me to "get back to my old self" you will stay frustrated. I am a new creature trying to redefine myself with new thoughts, dreams, aspirations, values and beliefs. Please try to get to know this different me -- I'm the one who'll be here from now on.

I wish you knew how much the loving support I receive from my family and special friends means to me. I don't think I would have made it this far without them.

--Author to Original Poem Unknown --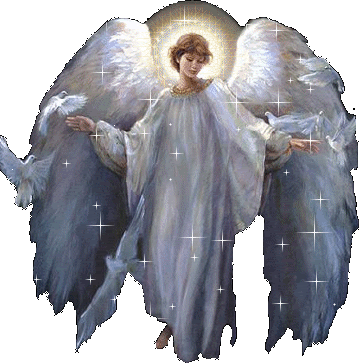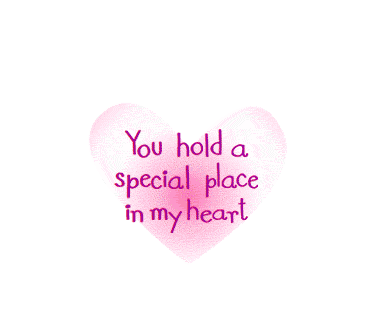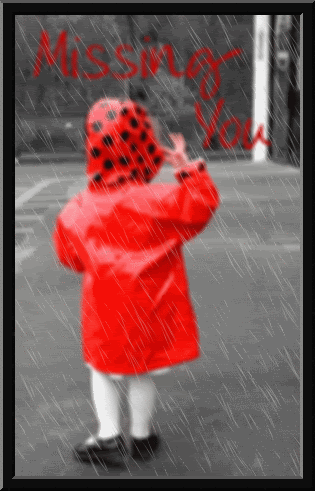 We love you and miss you Kristina!
Love, Jessica, Dylan, Layla & Samantha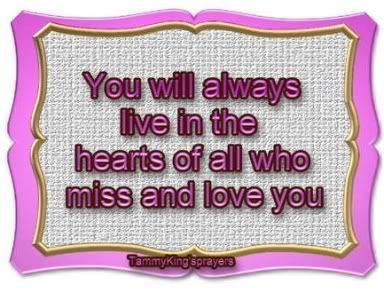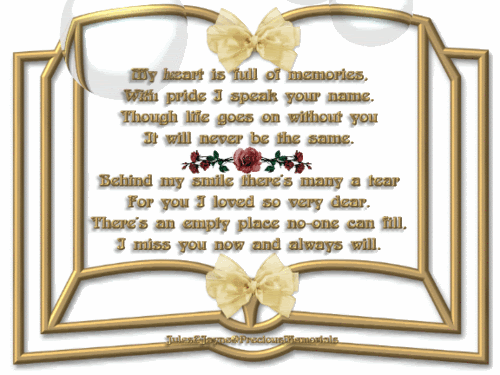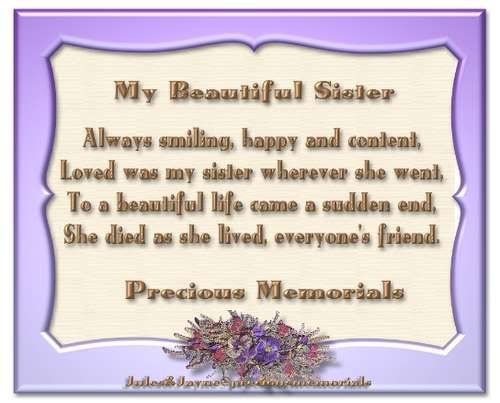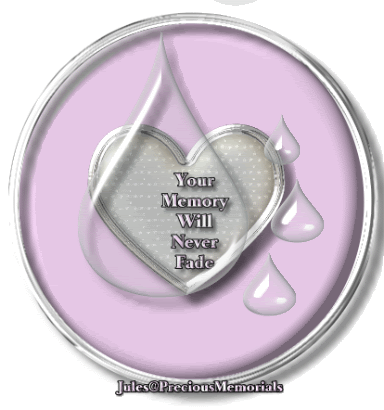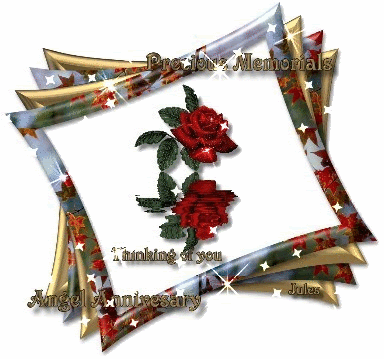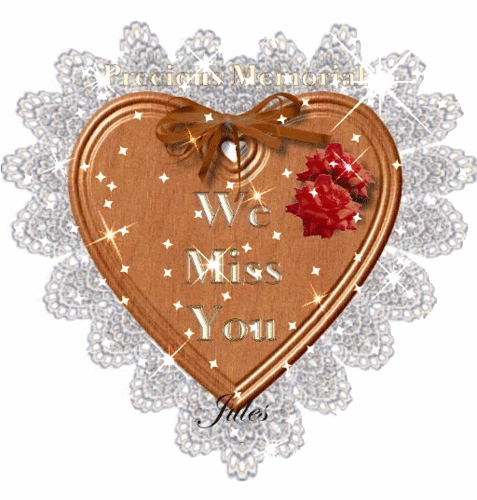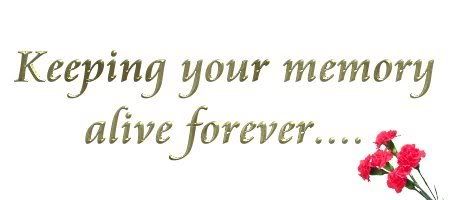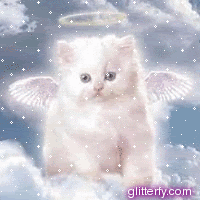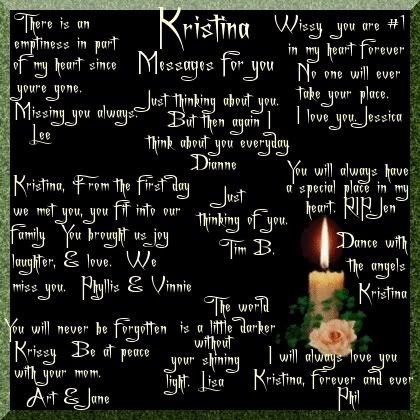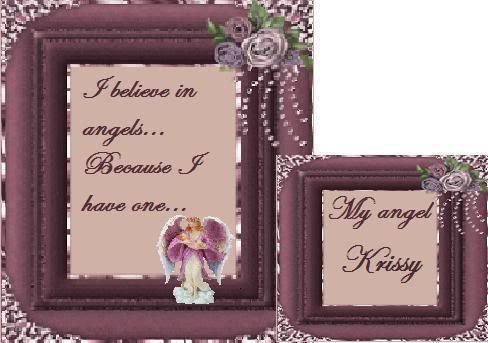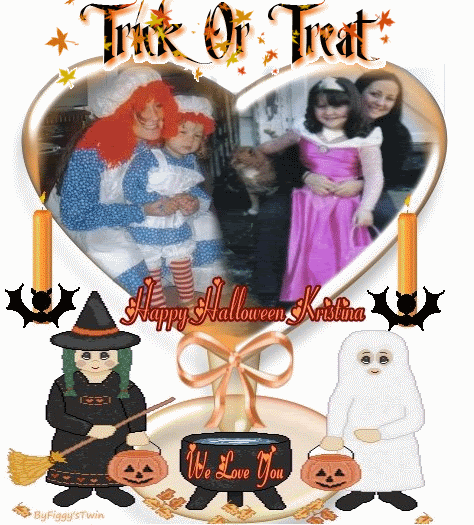 Christmas 2007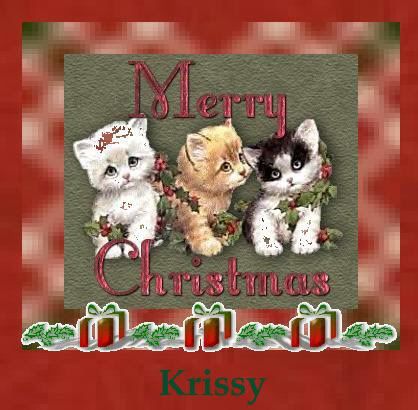 Christmas Without You

Christmas without you here with me,
can never possibly be the same.
But I carry an Angel within my heart;
one so precious, who has your name.

An Angel forever watching over me,
at Christmas time and over the year.
Although you can't be here anymore,
inside my heart, you are so very near.

There is no special present for you,
wrapped under my Christmas tree.
But I have a greater gift to give to you,
all the love you can still feel from me.

No, Christmas time without you here,
could not ever possibly be the same.
But, I have had the precious gift of you,
and the memories and love, will remain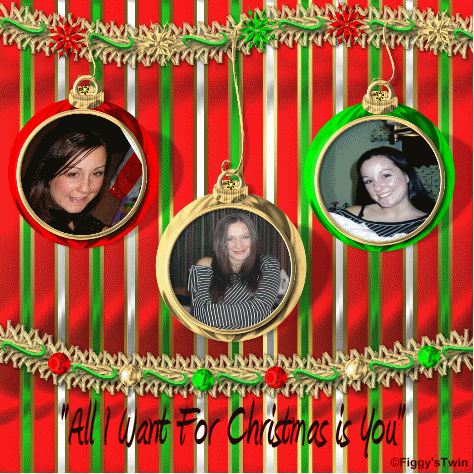 'Tis Christmas in Heaven
What a beautiful sight!
It's my first one here;
Everything is all right.

I've met all our dear ones
Who preceded us here;
The reunion was lovely,
An event full of cheer.

I think of my family
that I left behind
And I pray that your Christmas
Is as blessed as mine

Please shed no more tears,
For my soul is at rest,
Just love one another;
Live life to its best.

Yes, It's Christmas In Heaven,
So I've heard them say,
Yet, Christmas In Heaven
Happens every day.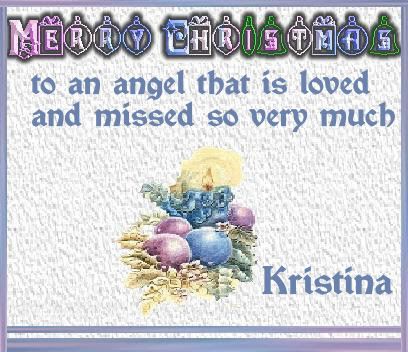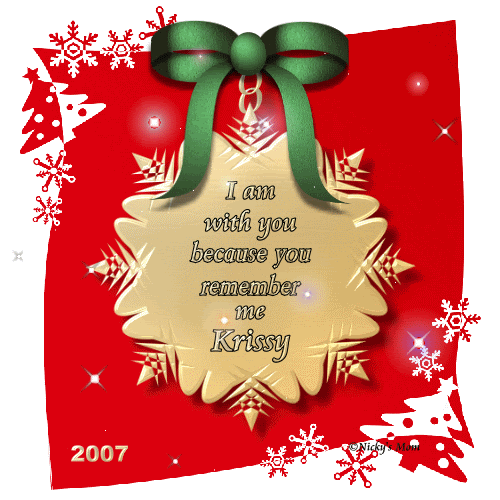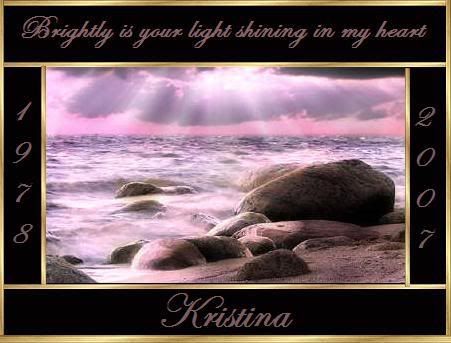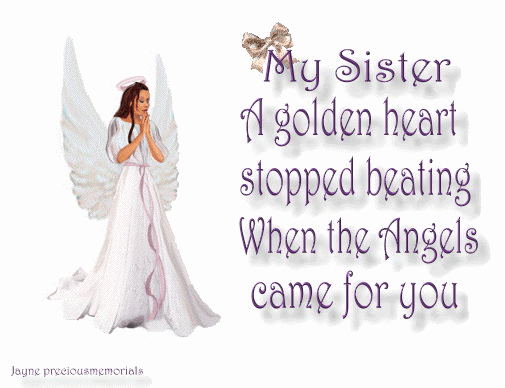 Happy Valentine's Day
February 2008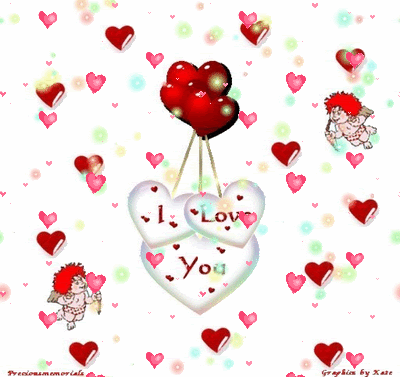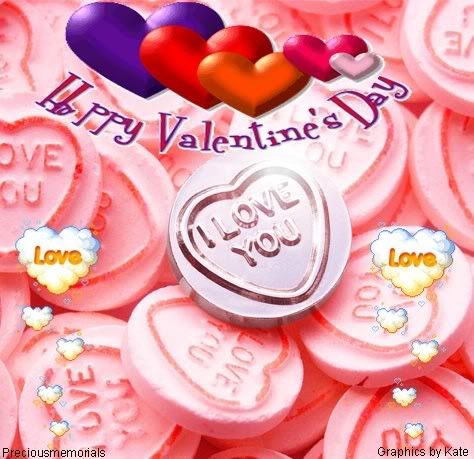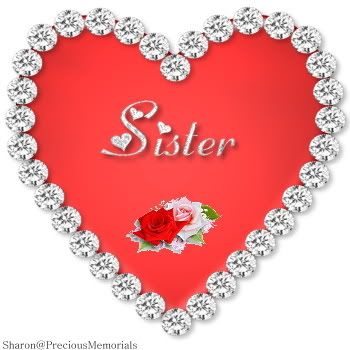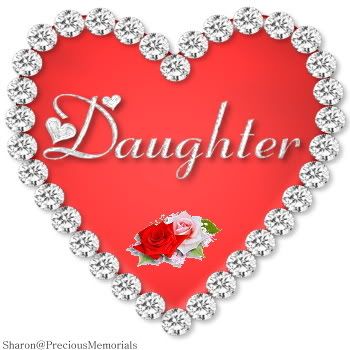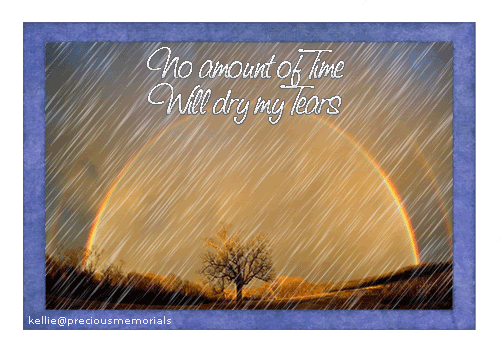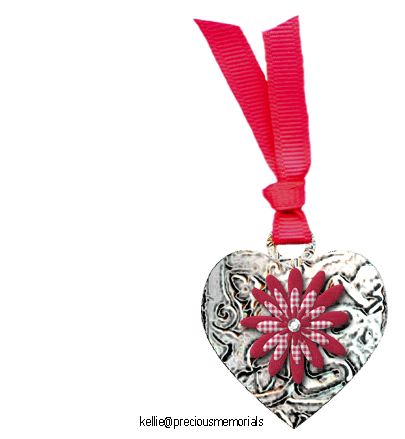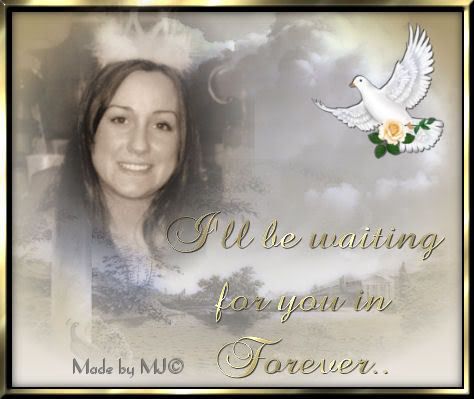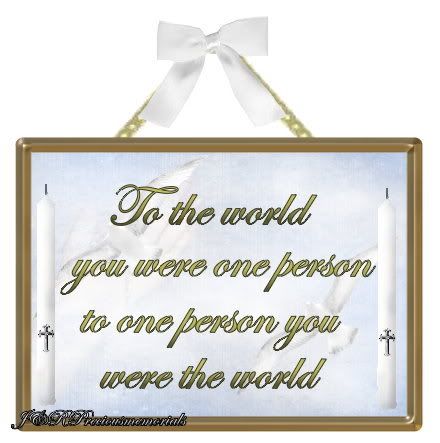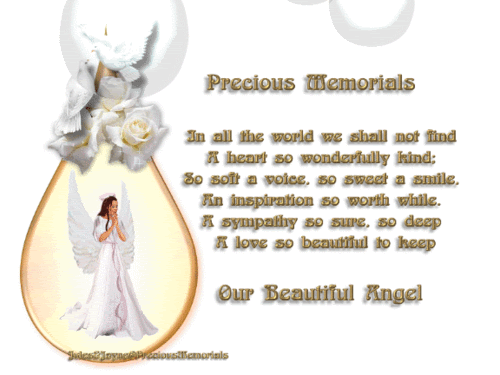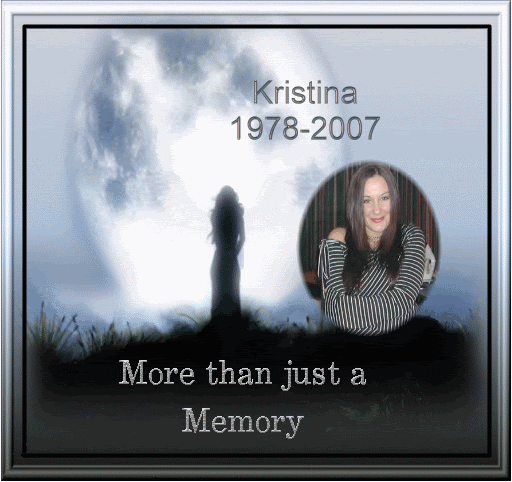 Do Not Stand At My Grave

Do not stand at my grave and weep,
I am not there, I do not sleep,
I am the thousand winds that blow,
I am the diamond glint on snow.
I am the sunlight on ripened grain,
I am the gentle Autumn rain.
I am the shining star at night,
When you awake to the morning light.

My time has come, I am at rest,
I am the sunset in the west,
I am the clouds that race above,
Where I watch over those I love.

Do not stand at my grave and cry,
I am not there, I did not die.
So, hear the words that I say,
I am the love that guides your way.